Emergency Info/Useful Phone #s
Emergency Phone Numbers/Websites:
Emergency & Fire: 911

Note: Residents and businesses with landlines are automatically enrolled in the Reverse911 system. However, it does not call cell phones or VoIP landlines unless the phone owner registers their numbers with the Countys system. In Santa Cruz, register at www.scr911.org CodeRed alerts. In Santa Clara County, register for AlertSCC at www.sccgov.org.

Santa Cruz County Road Maintenance: 831-477 3999
Santa Cruz County Emergency Services: 831-471-1170
Las Cumbres Water Emergency: 408-831-2482
Sheriff's Office: 831-454-2440. Dispatch: 831-471-1121
Sheriff's Office anonymous tip line: 831-454-2847
Sheriff's Office, Felton: 831-461-7400
CA Highway Patrol: 831- 662-0511. Dispatch:831-425-7878
Santa Cruz County Road Closures:

http://www.sccroadclosure.org/

Santa Clara County Road Closures:

https://www.sccgov.org/sites/rda/Pages/roadclosures.aspx

CalTrans Road Conditions:

http://quickmap.dot.ca.gov/

,

https://511.org/

Las Cumbres Wildfire Evacuation Guide
What You Need to Know & Do to Be Prepared
To download flyer: Wildfire Evacuation Guide; Southern Evacuation Route
to report a fire
CALL 911
If you see smoke
in nearby hills
CALL 911
YOU Can Be Better Prepared by taking actions noted in this flyer. It summarizes information from Cal Fire, the Las Cumbres Emergency Response Team, PG&E and local emergency agencies recommendations.
Stay Informed and Ready to Act.
Gate Lock Codes for Southern Evacuation Route
At the end of Favre Ridge Road, below the turn-around, there are two locked gates that begin the Southern Evacuation Route. Get the Favre Ridge Road Gate Codes here. We recommend you practice opening the gates.

Join Facebook and Local Social Media Sites

Las Cumbres Residents

Facebook Group and

Friends of Las Cumbres

Facebook Group are great resources for sharing emergency status, alerts and updates through crowd sourcing. Even if you never use Facebook for personal use, we strongly recommend that you join Facebook to get access to these groups.
Las Cumbres Residents Facebook Group is a private invitation-only group that is limited to current Las Cumbres residents. This is a space to share information with other members of the community. To join, go to

Las Cumbres Residents

page, and make a request to become a member of the group.
The

Friends of Las Cumbres

group includes many of our Skyline neighbors, former residents and family and friends who are interested in our community. To join the Friends of Las Cumbres page, send an email to to

kathleenhart23@gmail.com

.
Nextdoor Las Cumbres: Download the Nextdoor app from Apple or Android store and follow instructions to join "your neighborhood".
Yahoo Groups at 95033talk. Go to

95033talk

to request membership. You need to live in the 95033 zip code.
PulsePoint mobile app enables tracking of feeds from both Santa Cruz Fire (CZU), Santa Clara County Fire Dept.( SCCFD), and any other fire departments you wish to follow. Disregard CPR info at startup if not of interest.

Other Useful Resources for Fire Information

Santa Cruz Fire Dispatch @FireDispatchSC (Twitter)
@CAL_FIRE (Twitter)
@CALFIRECZU (Twitter)
CALFIRE (Facebook)
TV Stations: KSBW (NBC) Channel 8 ksbw.com; KION (ABC) Channel 5 46, kion546.org; KNTV (NBC) Channel 11, nbcbayarea.com
Register for Emergency Alerts
Take these Actions Now before an Evacuation
Practice manually opening your garage door without using electricity.
Acquire pre-cut plywood or commercial products to seal attic and ground vents.
Create a checklist of the things you plan to take with you in an emergency evacuation.
Pack a basic Go Bag of items that you plan to take with you in an emergency evacuation. Go to

CalFire website

for details
Pack an Emergency Supply Kit. Include N95 face masks (best against smoke), gloves goggles and essential meds.
Create a list of Go Bag Items & Emergency To-Dos. Place your list where you can easily find it.
Save as many key personal documents as possible online.
For more information on emergency preparedness recommendations, visit

ready.gov
Who Sends Out Evacuation Orders?
Wildfire evacuations are ordered by Cal Fire and executed by the Santa Cruz County sheriff's department. Calls to evacuate are prioritized: those most in danger get called first.
How Are Evacuation Orders Issued?
When an evacuation is ordered, Santa Cruz County Emergency Agencies notify residents by calling their landline phones. Cell and VoIP phones will also be called if they have been registered in the county's Reverse 911 system. Your phone(s) Caller ID will not recognize it as an emergency call. Note: If you don't have a landline phone, it is critical to register your cell or VoIP phones. (See Register for Emergency Alerts above to learn how). County sheriffs will enforce wildfire evacuation orders through house-to house checks after they arrive on site.
Las Cumbres Alerts & Status Reports
The Las Cumbres Emergency Response Team (LCERT) will retransmit the official evacuation orders via LCCC's emergency alert system, the same system that notifies residents of Las Cumbres Mutual Water Company (LCMWC) internal emergencies. Evacuation and status calls will state "Wildfire Alert" in the Caller ID so that it is recognizable.
If You Have Time Before an Evacuation
Take Preventive Actions Inside Your Home:
Shut all windows and doors, leaving them unlocked.
Remove flammable window coverings; close metal shutters, fireplace screens and doors.
Move flammable furniture away from windows and doors.
Do not turn off pilot lights or propane tank unless you are familiar with the process for turning them back on.
Leave on interior and exterior lights that will be visible to firefighters when they approach your house.
Shut off air conditioning and/or heating.
Take Preventive Actions Outside Your Home:
Back your vehicle into the driveway with all doors and windows closed. Carry your car keys with you.
Put your Go Bag and Emergency Supply Kit in your vehicle.
Place a note that you have evacuated on your front door. Identify who evacuated and your contact info.
Place a ladder at the corner of your house for firefighters to access the roof.
Connect garden hoses to outside water valves or water tank spigots. Do not leave sprinklers running.
Turn off portable propane tanks and move flammable items away from structures.
Check on neighbors. Make sure they are aware of the evacuation order.
Safe Driving Procedures during Evacuations
Turn on vehicle headlights and keep them on.
If conditions are smoky, proceed slowly. Stop if you cannot see.

Do not block the road.

Keep car windows closed, and turn on the air conditioner with outside vents closed.
Yield the right of way to emergency vehicles.
Las Cumbres Emergency Evacuation Routes:
The preferred evacuation route for Las Cumbres Residents is via the LCCC Entrance, and then proceeding either North (left) or South (right) on Skyline Boulevard to safety unless instructed by authorized personnel.
If evacuation via the LCCC Entrance cannot be done safely, use the Southern Evacuation Route.
Consult the map below for LCCC evacuation routes. Place the Southern Evacuation Route maps in your cars' glove boxes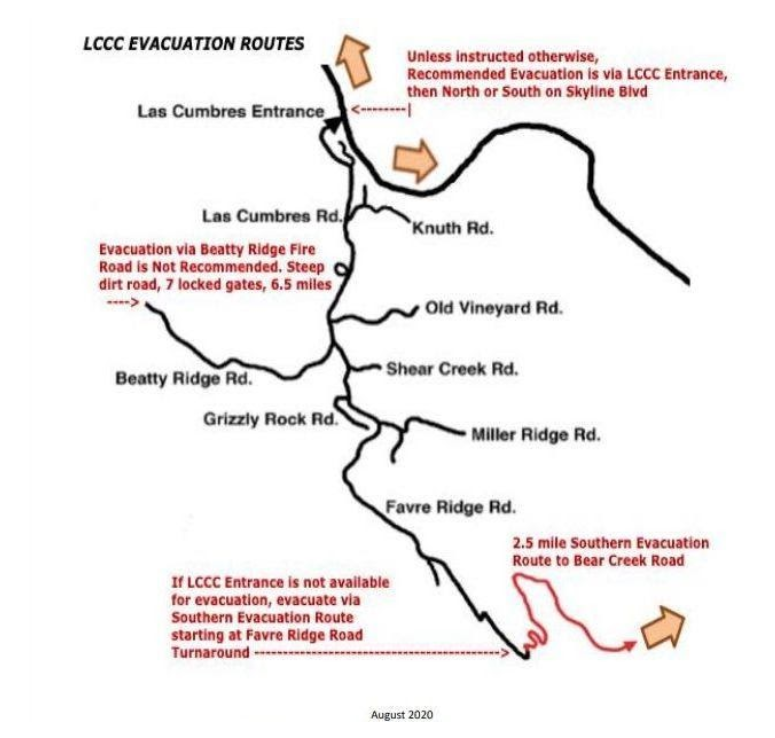 Southern Evacuation Route Instructions:
The roads on the Southern Evacuation Route are partly unpaved. Some paved portions are extremely narrow with Scotch Broom looming in on both sides of the road. The broom will come in contact with your car, but is very soft and should do no damage. The part that is not paved is extremely curvy in spots, with occasional short, steep ups and downs. It is not advisable to go fast. lt will feel like a surprisingly long drive. Do not attempt to tow anything. Do not bring an RV. Do not bring any vehicle with more than two (2) axles.
1. There are two gates on the Southern Evacuation Route that are normally locked. Southern Evacuation Gate Codes
2. If you do not have the codes to the Southern Evacuation Route gates, proceed to the Favre Ridge Road turnaround and wait there until you know that the gates have been opened. Trained residents will do this as soon as possible.
3. The drive from the Favre Ridge Road turnaround to Bear Creek Road using the Southern Evacuation Route is about 2.5 miles on a narrow windy road and takes approximately 30 minutes to reach Bear Creek Rd.
4. Most 2WD vehicles can safely and successfully evacuate by this route. (We've tested the route with a Honda Fit and a Tesla Model 3).
5. Drive slowly and carefully. Use first or low gear, especially on the unpaved section of road. Use 4WD if you can. Any car that gets stuck will only delay those cars behind it.
6. There are a few sharp curves and hairpin bends on the initial dirt road section of the Southern Evacuation Route, one of which requires backing up and completing it with a second go.
7. If following another car, don't get too close. This is especially important at the hairpin turn and at the first bridge.
8. Look for the reflective green evacuation directional signs along the road. They're affixed to trees beside the road at every intersection to tell you where to turn. Signs indicating distance from Bear Creek Rd. are also in place along the road. Do not assume that all directional signs are present. Sometimes vandals remove them from the trees.
9. When you reach Bear Creek Road, a left turn will take you toward Highway 17. A right turn will take you toward Boulder Creek.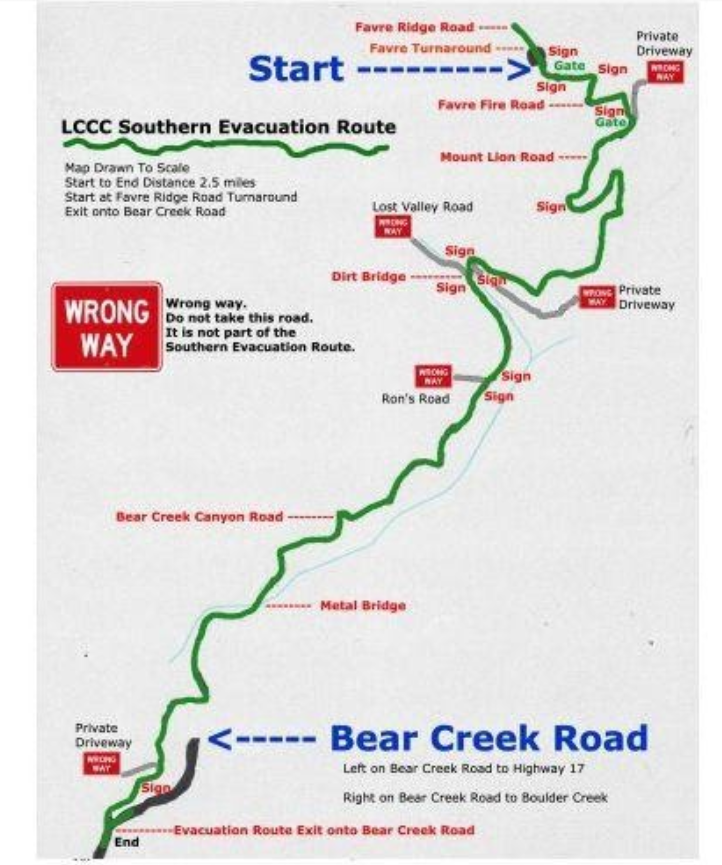 Other Important Phone Numbers:
Santa Cruz County Animal Control/Shelter: 831 454 7303 /dispatch 831 471 1121
Santa Clara County Animal Care & Control Field Services: (408) 201-0660, call 911 for after hour emergencies.
Wildlife Center of Silicon Valley, https://www.svaca.com/,
(Will assist with injured wildlife. Also, has information about problems with rodents, raccoons, skunks, opossums and coyotes. They also provide referrals and information about other organizations and programs that can help with nuisance wildlife.)
Child Protective Services: 831 454 4222
Congresswoman Anna Eshoo: 831 335 2020
Conservationist USDA NRCS Richard Casale: 831-475-1967
County Supervisor Bruce McPherson (5th district): 831 454 2200
District Attorneys Office: 831 454 2400
Environmental Health: 831 454 2022
Planning Department: 831 454 2580/ Felton 831 461 7450
Public Works: 831 454 2160
PG&E: 800 PGE 5000

www.psps.ss.pge.com

for potential power outage by zip code
Non-Emergency Phone Numbers/Websites:
Santa Clara County non-emergency:

408 354 8600
Santa Cruz County non-emergency: 408 471 1121
Vehicle Abatement (c/o Public works):

831 454 3139
GreenWaste Management:

800-665-2209
Web Site Administrator, Las Cumbres

webteam@lascumbres.org